30 Apr

Fittings at Ivory Isle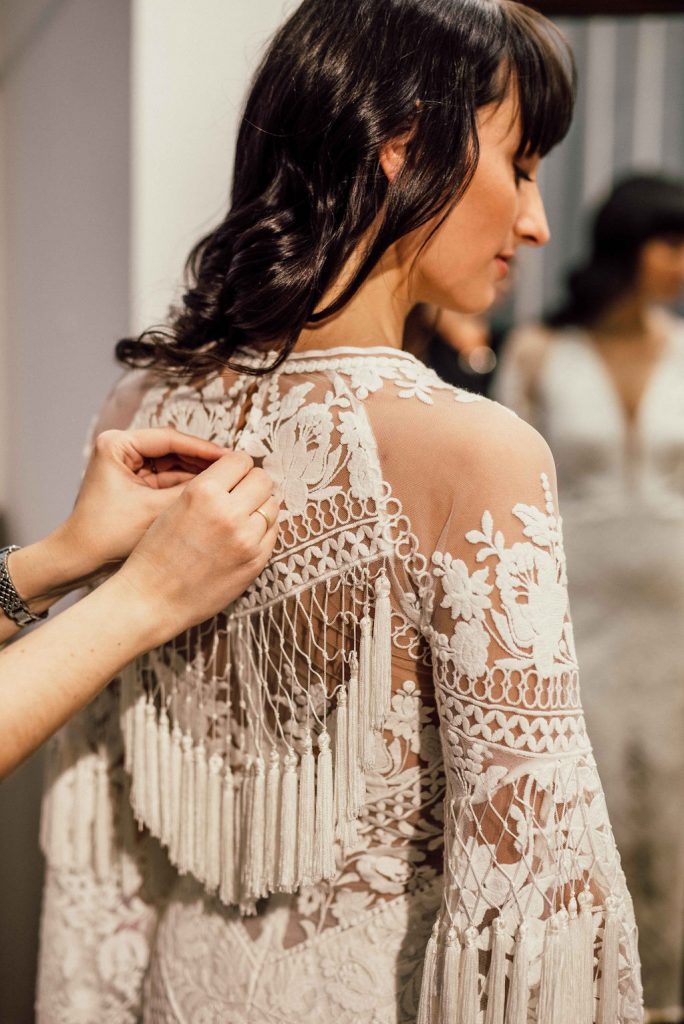 Yes, we do have fittings in English!!!
The right time to start searching for your dress is approximately 10 months before the wedding. Even if this sounds pretty early, there are a lot of things to consider and to go through before your wedding and belief me: you don't want to rush decisions!
So if you are booking a fitting at Ivory Isle you need to know about the following:
Important:
NO fitting without an appointment! Since we are taking two hours per bride our day is filled with scheduled appointments – so we are very sorry to say: we can not be spontaneous.
So please BOOK your appointment as early as you can. Between October and March our weekend appointment fill up fast and you need to book 4 weeks in advance!
Underwear:
You need to wear underwear that is comfortable for you and in which you are o.k. to be seen in – since our staff will be fitting you. In the best case the underwear is seamless and nude coloured and the bra is strapless.
Shoes:
Shoes are not necessary but if you already have your weddingshoes take them with you. They need to bee clean on the surface since you might step on the seams of the dresses. If you don't have shoes don't worry! We have solutions for this case!
Please don't:
No colouring sun creams! No evening Make-Up! If you want to put a bit of Make-Up it is fine with us, but please no red lipstick on your lips or Make-Up on your chest or breast. Tanning creams, sprays and such are perfect any other day – but please don't use them before your fitting!
If you are the perfect loving Mom – that's wonderful! We love children! But while you are in your fitting YOU are the person that is in the middle of it all! It is YOUR day, it is YOUR fitting, and it's YOUR wedding! Even the calmest children don't like to stay calm for more than one hour. Even the best behaved like to touch or play with things that are in our store. We are having cups of coffee, vases filled with water, needles and pins and more of that in reachable heights. We are not children save!!! We are not taking responsibility for children and you might accommodate us for damage that is done. So please consider taking the day of as Mommy and enjoy the fitting with us! In some cases you might need to take your child with you – please inform us if you do!
Please do:
Bing your best friends to the fitting! It is always fun to have your friends with you! We have space for three of your best friends, and we love to get to know them! If you bring more than two friends you need to consider that there are a lot of different opinions so it might get difficult to choose your dress. If you bring more then two friends we will charge a fee for the third, forth and fifth person. Please note the number of attendes when booking at our booking platform!

Stay open for new things:
Please don't make your mind up to easy. Dresses that look good in magazines might not suit you. Some dresses that are looking like nothing on the hook might suit you perfectly! So please try to stay open!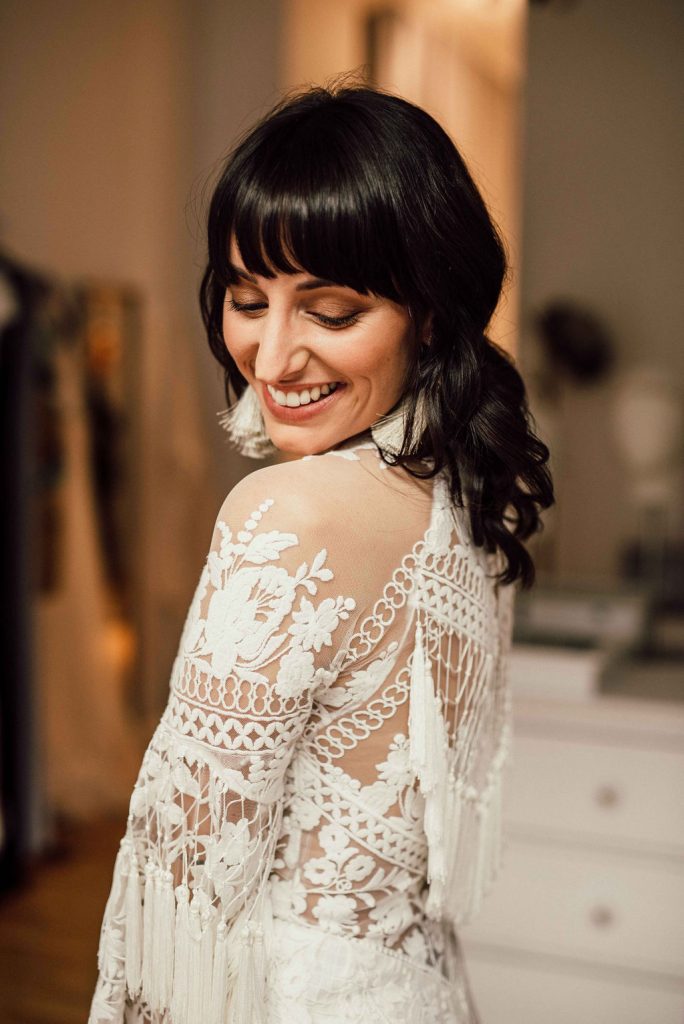 Fitting Fees:
Currently we don't charge for our fittings! For further informations please check our booking site!
Cancelling the appointment:
Even if we don't charge for your appointment there are people waiting for you! We are reserving two hours of our time just for you and your friends. If you need to cancel the appointment because you found your dress we would appreciate it if your do this 24 hours before your appointment. If you need to cancel because of sudden sickness or things like that please don't just call us – please text us and mail us too! We might be in a fitting and can not fetch the phone.
But still – if you can please cancel at least 48 hours before the fitting!!! (already payed fitting fees may not be payed back if you are not in time)
Photos:
As for the 1st of January 2019 we apply new rules! You can take ONE photo per dress. That way you can remember the dress, but you won't have a hundred pictures filling your mobile phone.
Prices:
Our designers have high quality standards, natural materials, perfect customer service and they produce by hand. So the price range depends on the designer and quality of the material. If you are lucky and find your dress in our Sample Sale you might get it even cheaper.
So the price range for wedding dresses is from 650 till 4.500 Euro.
The price range for bridesmaid dresses is from 250 Euro till 400 Euro.
The price range for Accessories like belts, jackets, veils or headpieces is from 30 Euros till 800 Euros
You found your dress:
If you decide to order your dress at our store we will measure you to find the perfect size for you. You need to make a down payment in the amount of 50 percent. After we receive the money we will order the dress at the designer. After the dress is delivered you will have your "first fitting of your gown". We will check if the size still fits you (a lot of brides loose weight) and then we will pin the hem so that we can start with the alterations (if needed).
At this "first fitting of your gown" we will also ask for the second 50 percent down payment.
When we are finished with the alterations the dress is ready for the final fitting and the pick up. Then you can get happily married!
Additional Questions:
Please email us! We are more than happy to help!